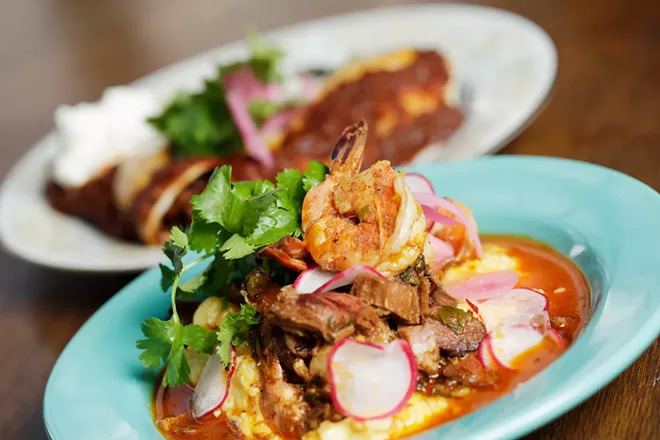 The Bad Seed Brings Tex-Mex Flavors and Eclectic Ambience to Historic Building in Hillyard | Food News | Spokane | Interior of the Pacific Northwest
Spokane's historic Hillyard is fast becoming one of the region's top foodie destinations.
The new Bad Seed restaurant and bar contributes to this appellation. Located inside a historic Italian Renaissance-style brick building that served as a branch of the Hillyard Public Library for over 50 years, the Bad Seed attracts visitors with an ornate Gothic-style facade.
Once inside, they'll find Tex-Mex style food, creative handcrafted cocktails, and a moody vibe. Under the beautifully carved beamed ceilings of the open ceiling, solid wood tables reminiscent of grandma's kitchen are juxtaposed with some huge paintings of female nude hanging in the 21+ bar. Stacks of old books bound in fabric and the warm glow of shaded lamps, meanwhile, evoke a warm and studious atmosphere in a nod to the past life of the building.
"We're not the Bad Seed like in 'Rough and Tumble', it's like a fancy Bad Seed, but a laid back fancy," says owner JJ Wandler. "The name doesn't reduce us to one thing, and our menu has evolved – even in the first five to six weeks of opening – although I don't think we'll leave Tex-Mex behind. But the Bad Seed lends itself to anything. "
Wandler is not a newcomer to the restaurant business; he opened the old Garageland bar and restaurant in downtown Spokane and co-owns a hip French-inspired place called Gainsbourg in North Seattle.
In March, when he started planning Bad Seed, Wandler thought that by the time it opened, the most restrictive pandemic setbacks of the past two years would have passed. Overall, that's true (although labor shortages and supply chain issues continue to plague the hospitality industry). However, thanks to the unintentional opening of Kismet, another new restaurant nearby, on the same day in mid-September, along with a quick word on food and drink offerings worthy of both, the Bad Seed has been much more busy getting started than he had expected.
This resulted in growing difficulties due to the restaurant's small fully electric kitchen. And the Bad Seed opener, recruited by Wandler to develop his menu, resigned after a Friday night shift several weeks ago. This put then-chef Josh Grimes – whose past stints include Ruins, Lucky You Lounge, Casper Fry, and Mizuna – in charge. Recently, Wandler and Grimes streamlined the food menu to help cut wait times.
"We all really want Hillyard to be successful as a foodie destination, and there are a few other places in the late planning stages as well," Wandler said. (These projects are Industry, a bar and a second location for Bellwether Brewing Co.)
"I'm super excited with everything that's going on, and of course Red Dragon has been here for a long time and they're like the grandpa of bringing people to Hillyard to eat," he continues. "I used to come here to eat at Red Dragon long before I thought of opening a restaurant."
Click to enlarge
TBad Seed's menu is a Tex-Mex classic, and was designed in part to feature several house sauces with complex flavors, like the tomato-based ranchero on his huevos rancheros ($ 12), chipotle juice with bolillo torta ($ 14, stuffed with brisket, carnitas seasoned pork or tofu) and the spicier roja sauce dipped on enchiladas ($ 14).
For appetizers, choose between a homemade salsa with tostadas ($ 5) or a queso ($ 8) made with Oaxacan cheese from LakeWolf Creamery in Deer Park. There's also elote ($ 7) and a few salads ($ 7 to $ 9), but the appetizer section that stands out is the Tejas pork, which consists of a thinly sliced ​​smoked beef tenderloin with a trio of accessories: homemade macha (chili oil), chimichurri and spicy sesame and roasted seeds.
For those who like their Tex-Mex to add a little extra heat, Bad Seed offers two custom hot sauces from California-based Infinity Sauces. The titular Bad Seed is made from habañero, while the High Plains Drifter is made from jalapeño and more tomato.
Don't skip dessert: the flourless chocolate pie ($ 8) with berry compote is decadent. There is also a cheesecake ($ 8) topped with dulce de leche.
At the bar, Wandler made sure to offer a few Mexican and Texan beers, including Modelo Especial and Shiner Bock on tap. Topo Chico and Jarritos are on the alcohol-free list, while the cocktail list includes a house margarita ($ 8) and up, like "Fear and Loathing" ($ 8), a shot of fine bourbon, and a large can of. PBR. An unusual choice is "Death in the Afternoon" ($ 11), a concoction of absinthe and sparkling wine.
Although the bar side of Bad Seed is larger, the restaurant offers seating for all ages, as well as a children's menu. Live jazz nights are scheduled for the first Monday of each month, and happy hour at the bar is daily from 4 p.m. to 6 p.m. Currently, the Bad Seed is only open for dinner, although Wandler plans to extend the hours to next spring when the venue's back patio opens.
Wandler is excited to be involved in the ongoing revival of Hillyard and its Market Street business district. His immigrant great-grandparents and grandparents once lived in the area, and he is passionate about historic preservation – both Hillyard's built environment and its working-class culture.
"It's a bit of the last underutilized neighborhood [in Spokane] with [commercial] vacancies, "he said. "That's what I was thinking when I did this – where is Hillyard going?" – and I like the direction it's going. And by sitting down with other business people, we all look to the future of Hillyard. "♦ ♦
The Bad Seed • 2936 E. Olympic Ave. • Open Tuesday to Saturday from 4 p.m. to 10 p.m. • facebook.com/badseedinhillyard • 509-822-7439