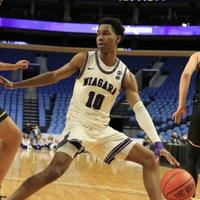 Niagara blasts Marist to earn MAAC No. 5 seed | Sports
LEWISTON — Talk about going out with a bang.
On a day seven seniors were honored, likely playing their final games at Gallagher Center, Niagara crushed Marist on Saturday, 83-52, and won the unlikely No. 5 seed in the Metro Atlantic tournament. Athletic Conference next week.
After suffering four losses by an average of 14 points on a five-game road trip, the Purple Eagles returned home with two of their best performances of the season, crushing Siena and Marist by a combined 53 points.
"Our guys deserve the credit," head coach Greg Paulus said of the turnaround. "I mean, the effort, the attention to detail, the energy, the urgency and the execution. They deserve a lot of credit for making a lot of plays.
"…We met about it when we finished a five-game road trip and said, 'Hey, it's March 1. It's the best time of the year. And they certainly responded and did an amazing job."
"I think the idea of ​​March just came into play, and how important it is to be the best team playing in March," echoed Jordan Cintron, who was honored ahead of the game with Shandon. Brown, Marcus Hammond, Nicholas Kratholm, Greg Kuakumensah, Steven Levnaic and Justin Roberts. "We knew the weather was going down for the regular season and we just wanted to end on a high. March hit and it was a bit like a deer in the headlights, but we embraced it."
Hammond got things going early on Saturday, scoring eight points in a 9-0 run to erase an early Marist lead. Minutes later, Niagara took the lead for good with a 10-0 run that included four straight returns on the offensive glass.
Niagara led 39-29 at halftime. Hammond drilled a 3 just 12 seconds into the second, starting a 29-9 stretch before Marist hit back-to-back buckets.
"They were my teammates, they set the tone early," said Hammond, who had family and a group of friends from New York in the stands. "We got off to a good start and I just had to get on board."
Junior Noah Thomasson led the way offensively, scoring 16 of his career-high 27 points in the 44-23 second half. He was a dazzling 11 of 14 from the floor with three assists and no turnovers.
Thomasson said the atmosphere — large groups of visiting friends and family added a lot of extra energy — helped things along.
"Shout out to our fans," he said. "They start screaming and it looks like I have a lot more energy and I'm ready to play."
Hammond finished with 21 points – his 25th career 20-point game – in what could be his final at Gallagher Center. The guard, who will earn his third selection to an All-MAAC team next week, was the last Purple Eagle honored at the senior ceremony and gave Paulus a tearful hug. Although he is graduating this spring, he still has an extra season of eligibility due to COVID-19 and could use it in Niagara or elsewhere.
He said he hadn't thought about his future – "it wouldn't be good for my teammates, my coaches" – and the emotions came from seeing long-time teammates honored in front of him.
"It was just a special moment because I was just watching Justin, (Cintron), Greg, (Kratholm), Steve…Shandon. They're my brothers and we've been through a lot."
Cintron, who is in his final season of eligibility and was drafted by a Puerto Rican professional league team last week, scored 13 goals with nine rebounds, two steals and two blocks. Freshman sensation Jao Ituka led the Red Foxes with 19 points.
The win, coupled with a Fairfield loss to Saint Peter's, put NU (14-15, 9-11 MAAC) tied with Marist (14-15, 9-11) for fifth place. The teams split the season series, and Niagara's victory over first-place finisher Iona was the tiebreaker for a first-round bye.
The Purple Eagles will face Monmouth (19-12, 11-9) in the quarterfinals at 9:30 p.m. Thursday in Atlantic City. The Hawks won 57-49 on Dec. 3 at Gallagher Center and Niagara returned the favor on Jan. 30 at New Jersey, 70-69 in overtime.