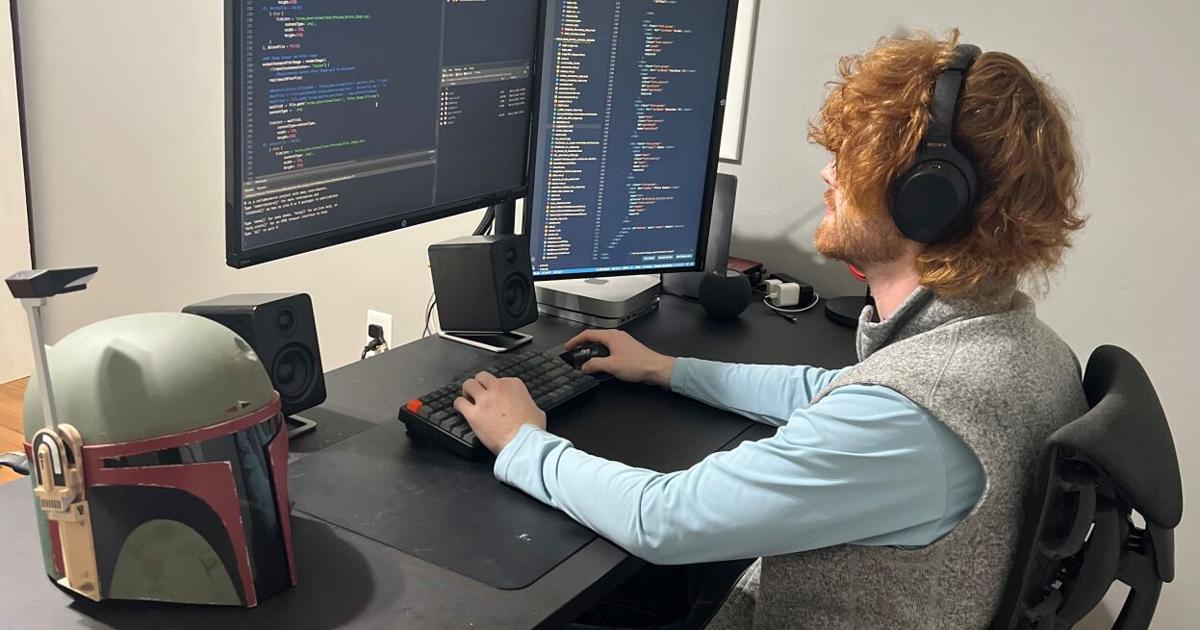 New Richlands Data Company Receives VCEDA Seed Capital Grant | New
RICHLANDS, Virginia. – A new technology consulting service in Tazewell County, specializing in data analysis and software development, has received a grant from the Virginia Coalfield Economic Development Authority (VCEDA).
Arsenal Development LLC recently received a $10,000 VCEDA Seed Capital Matching Grant, according to VCEDA Executive Director/General Counsel Jonathan Belcher.
"It is exciting to see this new technology take off in our region that seeks to meet the data analytics and software development needs of small and medium-sized businesses in our region and beyond," Belcher said. "The new venture, which fits well with our Southwest Virginia e-Region strategy to grow jobs in entrepreneurship and technology, plans to create four full-time jobs and six part-time jobs. within five years."
Owner Jordan Bales said Arsenal Development's goal is to help customers solve their technology needs while growing their business through advanced analytics. Additionally, he said attracting talent to the region through his company's planned internship program remains another goal.
The services provided are fully remote, meaning they can be provided wherever a business needs them. Bales said he brings years of technology consulting experience with specialized training and education in data science and software development.
Bales said the company's business model is focused on meeting the technology needs of small and medium-sized businesses, including website development, hosting, software development, machine learning and analytics. data. As well as working with these companies, Bales said Arsenal will also pursue government contracts at local, state and federal level as these become available.
"We live in a time where technology and data analytics can finally be harnessed to improve any business, regardless of size," Bales said. "All of Arsenal Development's services aim to make life easier for a business by increasing its efficiency. We want to be the "it's just simpler" solution.
"Our current project is the first intellectual property that we are developing for ourselves," Bales said. "IP is a software as a service project, commonly referred to as SaaS. Our market research has shown us that, like small businesses, small real estate investors are an underserved market. Our goal is to help these small investors track the rehabilitation of their property by streamlining expense tracking as well as communications with contractors. »
The VCEDA grant, Bales said, had helped him cover the costs of working capital, equipment and plans to hire his first intern this summer.
"I set aside most of the VCDEDA funds for this," Bales said of the internship. "It was a great experience meeting the folks at the Small Business Development Center and coordinating things with them."
Bales worked with the Small Business Development Center (SBDC) at Southwest Virginia Community College (SWCC) in developing his VCEDA application and received a letter of support from the Tazewell County Industrial Development Authority.
"With the help of the VCEDA Seed Capital Matching Fund, Southwest Virginia is home to an advanced analytics company," said Brittani Clarke Clayman, SBDC Business Advisor at SWCC. "Mr. Bales will not only bring cutting-edge technology to our region, but he is also dedicated to providing employment opportunities.
"It was great to work with him on this project because his commitment to giving back to the Southwest Virginia economy is very evident," Clayman added.
Arsenal Development LLC can be contacted by calling 276-285-0303. His website is at www.arsenaldevelopment.io and he can also be found on Facebook at https://www.facebook.com/ArsenalDevelopment.
The Virginia Coalfield Economic Development Authority, established by the Virginia General Assembly in 1988 to improve and diversify the region's economy and help create jobs, markets the southwestern Virginia electronics region and focuses on electronic information technologies, energy, education, emerging technologies and entrepreneurship. . VCEDA is a unique economic development organization that manages funds for economic development projects from a percentage of coal and natural gas severance taxes paid by coal and natural gas companies that operate in the region . Located in southwestern Virginia, the region includes Buchanan, Dickenson, Lee, Russell, Scott, Tazewell, and Wise counties and the city of Norton. www.vceda.us Where www.e-Region.org.
For-profit businesses in the VCEDA region less than a year old with fewer than 10 full-time employees are eligible to apply for dollar-for-dollar matching grants of up to $10,000 from the VCEDA Seed Capital Matching Fund. Applicants work with the Small Business Development Centers at Mountain Empire and Southwest Virginia Community Colleges to prepare VCEDA applications that include detailed business and financial plans. Businesses must be located or plan to operate in the VCEDA region of Southwest Virginia, which includes the counties of Buchanan, Dickenson, Lee, Russell, Scott, Tazewell, and Wise and the city of Norton.
— Contact Greg Jordan at [email protected]