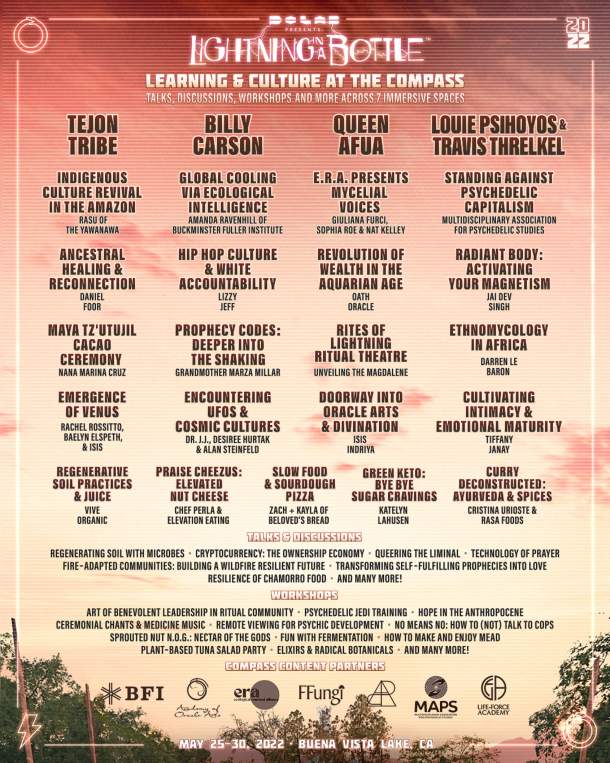 Lightning in a Bottle Announces Compass Music, Learning and Culture Lineup for 2022 Edition
Today, Do LaB, initiators and creators of North America's first multi-faceted boutique festival lightning in a bottle, announced its music, learning and culture programming Compass. LIB's Compass offers attendees the opportunity to gain life-changing lessons to bring back to their daily lives through a series of lectures, workshops and performances from visionaries, experts and thought leaders from world fame during the Memorial Day weekend festival in May. 25-30.
Lightning in a Bottle's Compass Environments host a range of learning and culture programs that align with the festival's core principles – creating a space for connection, expression and community. Featured talks and discussions among this year's programming include Regenerating Soil with Microbes, Cryptocurrency: The Property Economy, Queering the Liminal, Prayer Technology, Fire-Adapted Communities: The building a future resilient to wildfires, transforming the fulfillment of prophecies into love, the resilience of Chamorro food and more. .
Compass has once again curated a selection of thought leaders and top experts to guide attendees on an empowering journey through their festival experience. This includes Indian Tejon Tribe Dance Troupe, 2x bestselling author and 4BiddenKnowledge Founder/CEO Billy Carson, holistic wellness expert Queen Afua of the Sacred Woman Rites of Passage program, and collaborators at Racing Extinction and digital artists Louie Psihoyos & Travis Threlkel.
Some of the key innovative workshops will include The Art of Benevolent Leadership in Ritual Community, Psychedelic JEDI Training, Hope in the Anthropocene, Ceremonial Chants and Medical Music, Remote Viewing for Psychic Development, and No Means No – How to (Not) Talk to Cops.
Learning Kitchen returns as LIB's culinary hub at the festival, energizing through demonstrations and tastings. Learn cooking programming includes Regenerative Soil Practices & Juice with Vive Organic, Praise Cheezus: Elevated Nut Cheese with Chef Perla & Elevation Eating, Slow Food & Sourdough Pizza with Zach + Kayla of Beloved's Bread, Green Keto: Bye Bye Sugar Cravings with Katelyn Louise from Pure Joy Planet and Curry Deconstructed: Ayurveda & Spices with Cristina Urioste & Rasa Foods.
Lightning in a Bottle has also partnered with organizations that continue to focus on the idea of ​​connection and well-being around the world. These partners include Buckminster Fuller Institute, Academy of Oracle Arts, Ecological Renewal Alliance, Fungi Foundation, Ritual Community, Multidisciplinary Association for Psychedelic Studies (MAPS), and Life-Force Academy. Throughout the year, festival-goers can engage with these partners who act directly in accordance with the fundamental ethos upon which Lightning in a Bottle is built.
Artists announced on The Compass stage music lineup include a DJ set from electronic crossover favorite SG Lewis, Danish electronic trio and internationally acclaimed live performer WhoMadeWho, German DJ and producer Parra For Cuva, techno producer emotional and melancholic Christian Löffler, forward-thinking multi-genre producer Full Crate, Andre Power and Sasha Marie of Soulection, ethereal electronic musician Ayla Nereo, 29 Palms of Ooah and Boreta of The Glitch Mob, the music group of the neo-psychedelic world Simrit, multi-instrumentalist and DJ/producer Aabo, Afro-Latina DJ/producer and stylish twins Coco & Breezy, and many more.
Lightning in a Bottle defies the typical definition of a music festival by placing attendance at the center of its concerns. It's a place where friendships, relationships and lifelong memories are forged, a temporary home where excitement, fun and surprise await around every corner. It's this type of immersive, interactive, cause-focused educational programming that helps foster a sense of community that truly makes LIB an experience like no other.
Tickets for Lightning in a Bottle are on sale now through their website.
Compass Learning and Culture Programming
Tejon Tribe
Billy Carson
Queen Afua
Louie Psihoyos and Travis Threlkel
Rasu of the Yawanawa – Rebirth of indigenous culture in the Amazon
Amanda Ravenhill of the Buckminster Fuller Institute
Giuliana Furci, Sophia Roe and Nat Kelley – ERA presents Mycelial Voice
Multidisciplinary Association for Psychedelic Studies – Stand Up Against Psychedelic Capitalism
Daniel Foor – Ancestral Healing and Reconnection
Lizzy Jeff – Hip Hop Culture and White Responsibility
Oath Oracle – Wealth Revolution in the Age of Aquarius
Jai Dev Singh – Radiant Body: Activate your magnetism
Nana Marina Cruz – Maya Tz'Utujil Cacao Ceremony
Grandma Marza Millar – Prophecy Codes: Deeper Into The Shaking
Unveiling of the Magdalen – Rites of Lightning Ritual Theater
Darren Le Baron – Ethnomycology In Africa
Rachel Rossitto, Baelyn Elspeth & Isis – Emergence of Venus
Dr. JJ, Desiree Hurtak & Alan Steinfeld – Encountering UFOs and cosmic cultures
Isis Indriya – Door to Oracle Arts & Divination
Tiffany Janay – Cultivating Intimacy and Emotional Maturity
Vive Organic – Regenerative Soil Practices and Juices
Chef Perla & Elevation Eating – Praise Cheezus: Elevated Walnut Cheese
Zach + Kayla from Beloved's Bread – Slow Food & Sourdough Pizza
Pure Joy Planet's Katelyn Louise – Green Keto: Bye Bye Sugar Cravings
Cristina Urioste & Rasa Foods – Deconstructed Curry: Ayurveda & Spices
Interviews and talks
Regenerate the soil with microbes
Cryptocurrency: the economy of ownership
Queer the liminal
prayer technology
Fire-Adapted Communities: Building a Wildfire Resilient Future
Turning self-fulfilling prophecies into love
Chamorro Food Resilience
And much more!
Workshops
The Art of Benevolent Leadership in the Ritual Community
Psychedelic Jedi Training
Hope in the Anthropocene
Ceremonial chants and medical music
Remote Viewing for Psychedelic Development
No means no: how (not) to talk to the cops
NOG Sprouted Nuts: Nectar of the Gods
Have fun with fermentation
How to make and enjoy mead
Plant-Based Tuna Salad Feast
Elixirs and radical plants
And much more!
The Compass Artist Range
SG Lewis (DJ set)
WHO MADE WHO
Parra for Cuva
Christian Loeffler
Andre Power
Crate full
Sasha Marie
Ayla Nereo
29 palm trees
SimritComment
Aabo
Coco & Breezy
Kooze
Lizzie Jeff
El Papachango
Ali Farahani b2b Patrik Khach
Itai (Live)
Saqi ft Siren & Seer
Bohemian Crystal Instrument
Andreas One
Ayres New
Elie Badua
Free Creatures
Gianni
Giselle World
Joey Greiner
Kieran Behan
King Kurt
little dinosaur
Nebula Music
MyceliaLuz
Nii Tei
OSO
Rasu Yawanawa and his family
Ruby Chase
siika
Sukira
sweet anomaly
Prosperous Choir
Timo Granzotti
vintage roots
Yemanjo
Yohm