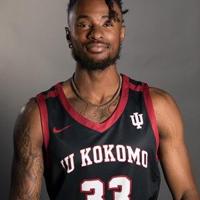 IUK Knocks Out NAIA's No. 1 Seed to Advance to Sweet 16 | Sports
Correction: This story has been updated from its original form to correct Coach Eric Echelbarger's first name.
Saturday afternoon in the second round of the NAIA Men's National Basketball Tournament in Oskaloosa, Iowa, IU Kokomo trailed top seed William Penn for the entire second half, until with 6.2 seconds, William Penn took a 92-91 lead at home.
The clock stopped at 6.2 seconds until IUK got the ball in. The Cougars didn't call time out, but it was time to go.
"Desean took him out, passed him to Allante," IUK sophomore Julien Hunter said of the Cougars' play between forward Desean Hampton and Allante goaltender Harper. I saw Allante pushing the ball in transition. I thought to myself that I could run and maybe get myself back. When Allante was driving…they [Penn defenders] sort of collapsed on him. My man looked Allante.
William Penn's defense all reacted to Harper at the top of the key and Hunter floated free to the left baseline.
"He served me and I shot," Harper said. "I had seen that there were only five, six seconds left [when IUK inbounded]. I had to immediately take the hit instead of driving it or passing it.
In one motion, Hunter received, elevated and placed face to the basket for a six-foot float.
The buzzer sounded just as Hunter's shot nestled inside the net. IU Kokomo beat William Penn 93-92 to eliminate not only the No. 1 seed in the quadrant, but also the No. 1 seed in the tournament and the No. 1 ranked team in the final poll.
Hunter said he was "very confident about it" when he got the ball back. It's a shot the New Albany High School product said he's taken 100 times in his career, and he took that shot before the game in warmups. He saw him fall at the buzzer and sprinted towards a group of Cougars rushing from all over the floor and the bench.
"One thing I remember is being punched in the face," Hunter said. He was also briefly in a headache as his teammates harassed him. "When they were congratulating me, one of them put me on the side of my face. The other thing that stood out was how emotional everyone was. There were a few players who were crying.
Harper, a fifth-year senior, made sure to tell Hunter "what a hit it really was," Hunter recalled. "It meant a lot to me to see how my teammates reacted."
With the win, IUK, who drew an 8 seed, opened the tournament and clinched their own ticket to Kansas City, host of the national tournament. The first round of the national tournament takes place Thursday and Friday, and IUK (31-3) will face Concordia University of Nebraska (27-6) at 8 p.m. Kokomo time on Friday in the Sweet 16.
"I spoke to our team, I spoke to [assistant coach D.J.] Balentine on this – I can't remember anything funnier in my basketball career," said IUK coach Eric Echelbarger. "It's a hostile mob in a different state. To get a win against the No. 1 team – I think they hadn't lost there in three years. This is huge for our program.
"It shows the resilience of our players. We have been a very underrated team. Our guys show what they do. Going onto someone else's court and winning a game like that is really important to the program.
The Cougars thought they should be superior to an 8 seed and backed that up by winning the first-round four-team group, playing back-to-back games at Iowa.
On Saturday, IUK took a 28-25 lead with 9:15 left in the first half on a 3-point play by former Northwestern High School star Tayson Parker and held that lead until the dying seconds. Parker hit a buzzer-beating 24-footer at halftime to give IUK a 55-46 lead at the break. Cougar's lead increased to 16 points at 66-50 on a Hampton post hoop with 17:02 remaining.
The home team made their way into the game and allowed IUK to prove their mettle.
"They're a very successful team, they lead the country with 95 points per game," Echelbarger said. "What we want to do is play our game. It's very important that on every run we have a good shot. I think that's what we did. You have our guys to thank for having found shots every time, being really good.
IUK shot 59.3% and held William Penn at 45.6%. Trequan Spivey led the IUK offense with 24 points, Harper scored 22, Hampton 11 and Parker led the bench with 16 of 30 reserve points. Hampton had seven rebounds and Hunter five. Harper delivered six assists.
"Just a serious overall effort," Echelbarger said. "When you go up there, you have 1,000 fans against you there. They made a big push but our guys, we took every hit they had and kept carrying it.