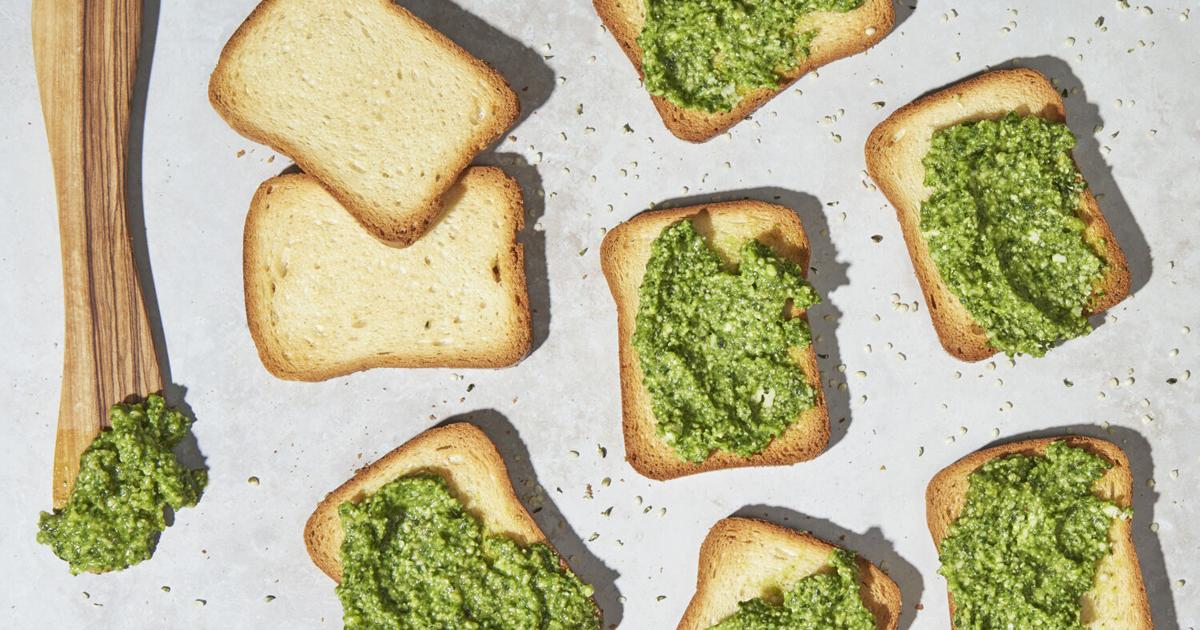 Hemp seed pesto | Receipts
Amy Feese

Full of healthy fats and rich in vitamins and minerals, hemp seeds are an excellent plant protein with a smooth texture and a sweet, nutty flavor. Hemp hearts – hemp seeds with the shells removed to make them easier to eat – are a great alternative to nuts in a traditional pesto.
Use this hemp seed pesto as a spread or condiment on sandwiches, as a garnish for soups or as a pizza topping; you can also toss some into pasta or stuff it into a pork chop or chicken breast. To make this pesto vegan, simply replace the parmesan with nutritional yeast.
Hemp seed pesto
Returns | 1 cup |
¼ cup hemp hearts
4 cloves of garliccoarsely chopped
2½ cups chilled basil leavespacked up
½ teaspoon kosher salt
½ teaspoon freshly ground black pepper
1 tbsp freshly squeezed lemon juice
¾ cup extra virgin olive oil
½ cup grated Parmesan cheese or ¼ cup baking powder
| Preparation | Add hemp hearts and garlic to the bowl of a food processor; beat until coarsely chopped. Add basil, salt, pepper and lemon juice. With the engine running, pour in the olive oil; stir until pesto is pureed. Stir in Parmesan or nutritional yeast.
Serve immediately or freeze in ice cube trays for later use. Once frozen, transfer the pesto to a sealed freezer-safe container to use as needed; the pesto will keep for 4 to 6 months.