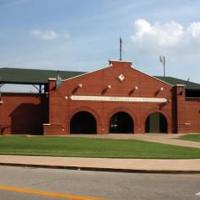 Curtis leads Vikings past second seed Western, 9-1 | local sports
ENID, Okla. – Preston Curtis, replacing injured Chance Noah, had five runs with two doubles and a home run and threw a runner at the plate to lead No. 7 seed Carl Albert past No. 2 seed Western Oklahoma, 9-1, in the first round of the NJCAA Division II Plains Tournament at David Allen Memorial Ballpark on Thursday, May 12, 2022.
Curtis had been in and out of the lineup until Vikings left fielder Chance Noah was injured diving for a fly ball against NOC Tonkawa last week.
"That's the definition of a step up," Vikings coach Paul Pulley said after the win.
"Feels good," said Curtis, who hit two-RBI doubles in the fourth and seventh and a solo homer in the ninth. "I knew they would try to overpower us with fastballs. I just sat on it and made sure I didn't miss it. "
Curtis stopped a possible Western threat in the fifth when he lined up a double from Michael Brinton on the wall. He pitched to cut man third baseman Reed Carroll, who threw Angel Polanco at home plate to keep Carl Albert ahead 4-0.
"I think it affected them more than us," Pulley said. "Maybe it was a chance for them to get their first break of the game. It drained them of energy."
Vikings starter Matthew Holzhammer allowed just three hits and a run in seven-and-a-third innings. He struck out 10 and walked two.
"I felt good," he said. "I didn't try to do too much and I stayed in the zone. When I was out of the area, they chased him all day. The wind that was blowing was nice, it held up a lot of bullets."
Matt Schilling hit a solo home run and two RBI doubles for the Vikings, who will go 23-34 against NOC Enid at 4 p.m. Friday. Western, 21-12, takes on East Central (Mo.) at 10 a.m.
Pulley said Riley Lowry will pitch against the Jets.