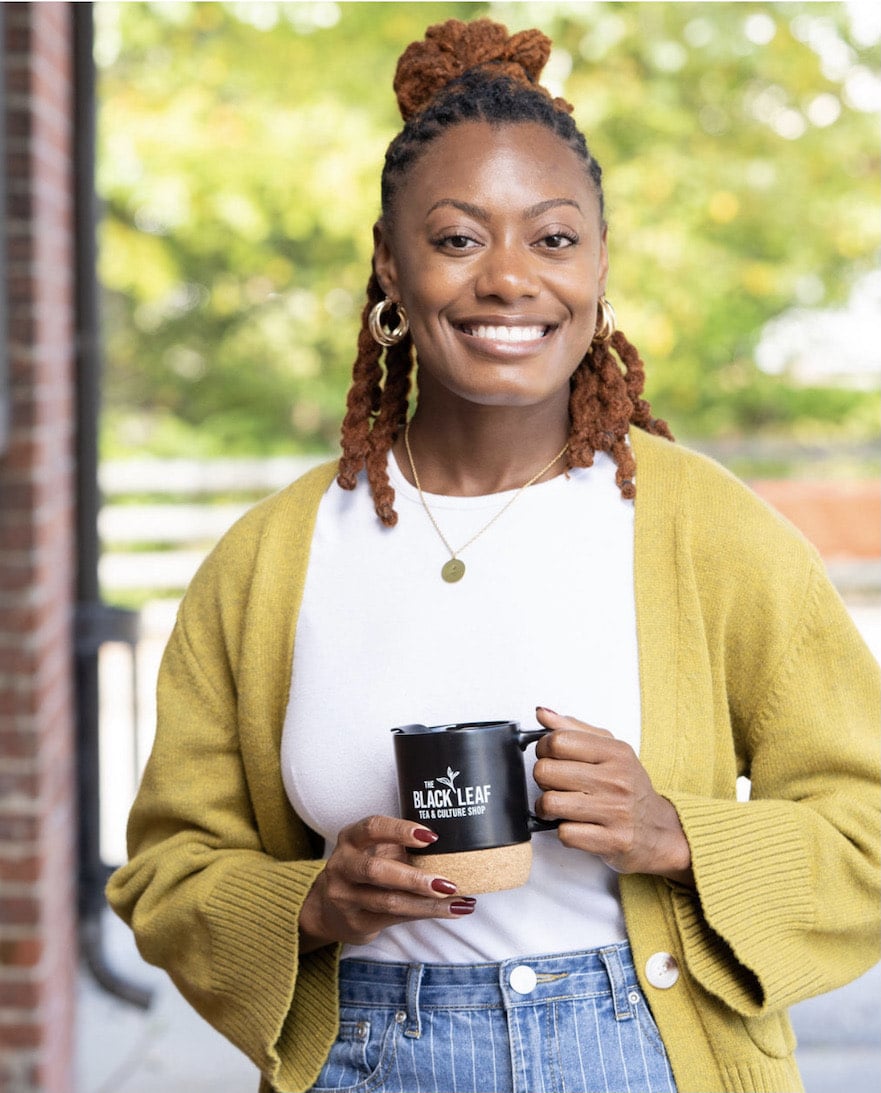 Black Leaf tea and culture shop goes national
When entrepreneur Amber Jackson couldn't find a networking group in Providence involving people like her, she started one herself. She owns the Black Leaf Tea and Culture Shop, and besides tea, black culture represents an important part of its activity. She started tea talks and other panels featuring successful black professionals who come together to learn from each other. Just as sipping tea brings people together, his entire business plan revolves around building community.
"My mother always taught me that you always have to be of service. No matter how little you think you have, you always have something to give back. Being of service to the community and being a black woman is something that close to my heart," says Jackson. "I really wanted to not only have a tea business, but to incorporate the other parts of me that are important, which are service and black culture. That's why it's called the Black Leaf Tea and Culture Shop.
Jackson moved to Providence in 2017 to work at Brown University as the team travel manager and financial coordinator for the athletics department, and she started her own side business soon after in 2019. The success of the entrepreneur during the pandemic allowed him to recently leave work at Brown to devote himself full-time to his business. But she still thinks about what it was like when she first moved here.
"My co-workers would take me to see different parts of Providence and almost every time I was the only black person or black woman in the room of a bar or restaurant," Jackson says. "It was a very uncomfortable feeling, so I wanted to create spaces for people who are like me, especially black transplants who move here on their own."
She is originally from Chicago where she says the Urban League was very active. She was surprised to find that Providence did not have an active chapter and did not want to have to travel to Boston to join the nearest local group. "I brought this here on my own. I used a network of friends I have here to meet more people," Jackson says. "A lot of people are lawyers, graduate students and medical residents, people who have their own businesses, people who have nine-to-five and want to meet other people to find out what they're doing. Tea Talks are a way to amplify black voices.
She based the Tea Talks on a YouTube series she follows called Vine, based in Brooklyn. "It's a panel, a roundtable by young black professionals, mostly millennials, and it's discussing the same things that I'm discussing; cultural topics, news, meetings, relationships, everything that affects the community on a daily basis.
Building community makes sense to her since tea is a comforting drink that some say can help alleviate their difficulties. "I grew up on tea," Jackson says. "If something was wrong like a headache or stomach ache, my mother would give us tea. It's something I enjoy, and not just the tea, but the flavor in general.
If tea can bring people together, so can conversation. And what better way than to cross tea talks (review previous virtual events on her website).
The names of its teas are also topics of conversation. Jackson gave each of his twelve all-natural organic tea and herbal blends fun nicknames like Cocoa Bae, which contains black tea and coconut; Chi-Town is a tribute to its Chicago home, and it's an Assam black tea with roasted cocoa nibs, black pepper, cardamom, cinnamon, ginger and cloves (20 % of profits are donated to the Chicago nonprofit My block, my neighborhood, my city); Silver is wintergreen with peppermint, spearmint and cinnamon; and Lotus is jasmine with dried mango and dried pineapple. While only four of the twelve blends contain tea leaves, she sources her supplies from a local vendor, Michelle Cheng, who has her own tea shop in Providence called Ceremony. Cheng sources directly from farmers in China, Japan and Taiwan.
"All my products are made with organic and natural ingredients. People appreciate the natural ingredient as it is. It's much more delicate on the palate but also very tasty," she says. "I want people to enjoy the natural beauty of these herbs and teas, to stop and be present in the moment."
After earning an undergraduate degree in nutrition and food science, followed by graduate school and a master's degree in food science, Jackson was confident of launching an alluring tea business. national. "Tea is the most consumed beverage in the world," she says. "I'm good at flavors, experimentation, and product development, so I decided to take these herbs that I had picked and create a dry, light-packed product that I can ship across the country, and when I'm ready, I can ship around the world."
Locally, she participates in popups every other Saturday morning at Farm Fresh Rhode Island Farmer's Market and sometimes, Friday evening and Sunday Providence chip. Its teas are available on the menus of Garden of Berries, Bayberry Beer Hall, wild flour, Notes Coffee and Hunky-dory and for purchase on Inkfish Books.
Although there is no brick and mortar store in his plans, Jackson is focused on building a local community through future events. She is already gaining more national traction for her tea brand. It currently offers a subscription box business with other companies called "Me Time" Deluxe Box (it includes all sorts of wellness items, from face masks and candles to chocolate chip cookies, a journal and moisturizer), and has been busy filling orders for over 2,100 teas to fill boxes shipped nationwide. "I'm a local business because I'm here, but I'm not a local brand," says Jackson. "My goal for the future is to continue to promote the story, the image and the brand image that I am a national brand." She left well.
RELATED ARTICLES
Sweet Valentine's Day Gifts from Black-Owned Businesses in Rhode Island
16 things to know about diversity and racism in the hospitality industry
Supporting Local Black-Owned Businesses