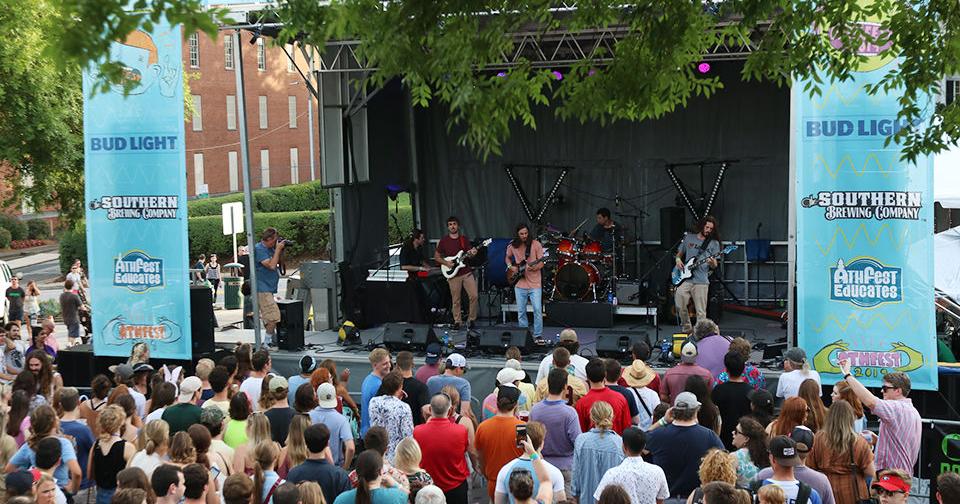 AthFest 2022 music and arts festival lineup announced | Arts & Culture
AthFest Educates has announced the list of musical guests who will perform at this year's AthFest music and arts festival. Performances will take place from June 24 to 26 on three outdoor stages. AthFest will also include ticketed shows at the 40 Watt Club and the Georgia Theater after the outdoor events conclude on Friday and Saturday.
AthFest will return to downtown Athens after a two-year hiatus in response to the COVID-19 pandemic. The free outdoor festival organized by the non-profit AthFest Educates has been a staple of the Athens music scene since 1997.
friday june 24
On Friday, June 24, the Wicked Weed Stage on Pulaski Street will open with performances from AD Blanco, Heffner, GrandVille, Convict Julie and Hotel Fiction, according to a press release from AthFest Educates.
The Hull Street Stage on Hull Street between Washington Street and Hancock Avenue will also kick off on June 24 with light performances, Convince the Kid, Elijah Johnston and Neighbor Lady, according to the press release.
Once these performances have concluded, Modern Skirts, Night Palace and Palace Doctor will take the stage at the 40 Watt Club to perform for ticket holders.
Performances on the Georgia Theater rooftop and indoor stage on Friday will include Monsoon, Linqua Franqa, Wieuca, Squalle and DJ Chief Rocka, among others.
Saturday June 25
On Saturday June 25, the Wicked Weed stage will be occupied by Zac Crook, Check The Signs, Telemarket, Cannonandtheboxes, Shameless James, Blunt Bangs and many more.
The Hull Street stage will host Reed Winckler, Kadillak, Jock Gang, Mother Fore, Ashes to Omens, Cam & His Dam Jam Band, Immaterial Possession, Well Kept and Lo Talker.
The 40 Watt Club will host Maserati, Pylon Reenactment Society and The Woggles on Saturday June 25.
Saturday's lineup at the Georgia Theater will include Underground Springhouse, The Orange Constant, Pip the Pansy, Fishbug, Everyday Dogs, Hunger Anthem and Beat Up.
Sunday June 26
The final day of the festival will see performances by Bichos Vivos, Sarah Zúñiga, Ty Manning & the Slawdog Biscuits, Larry's Homework, Ishues, Quiet Hounds, Rick Fowler Band and the Kevn Kinney Electric Band on the Wicked Weed Stage.
The Hull Street stage will feature Beta Cacao, Annie Leeth, Hunter Morris & Blue Blood, Duddy Ken, The Arcs, The Howdies and Wonderland Rangers.
Tickets for performances at the 40 Watt Club and the Georgia Theater are available for $15 in advance and $20 at the door, while tickets remain. AthFest will also offer VIP tickets for $80 that include access to exclusive viewing areas, VIP access to the outdoor festival, and a free t-shirt, according to the press release.
The KidsFest stage will welcome young musicians Smith Larrison, Dry Season and Surrender Cobra on Friday June 24th. Saturday and Sunday KidsFest lineups will include Allegro Music, Mach2Tone, Full Moon School of Music and Merry Sunshine.
Performances will begin on both main stages at 5 p.m. on June 24 and continue until approximately 10 p.m. The KidsFest performances will run from 6 p.m. to 9 p.m. on the same day. KidsFest will resume at 10 a.m. on June 25, with the main festival performances running from noon to 10 p.m. The last day of the festival, June 26, will have performances from 12:30 p.m. to 8 p.m.