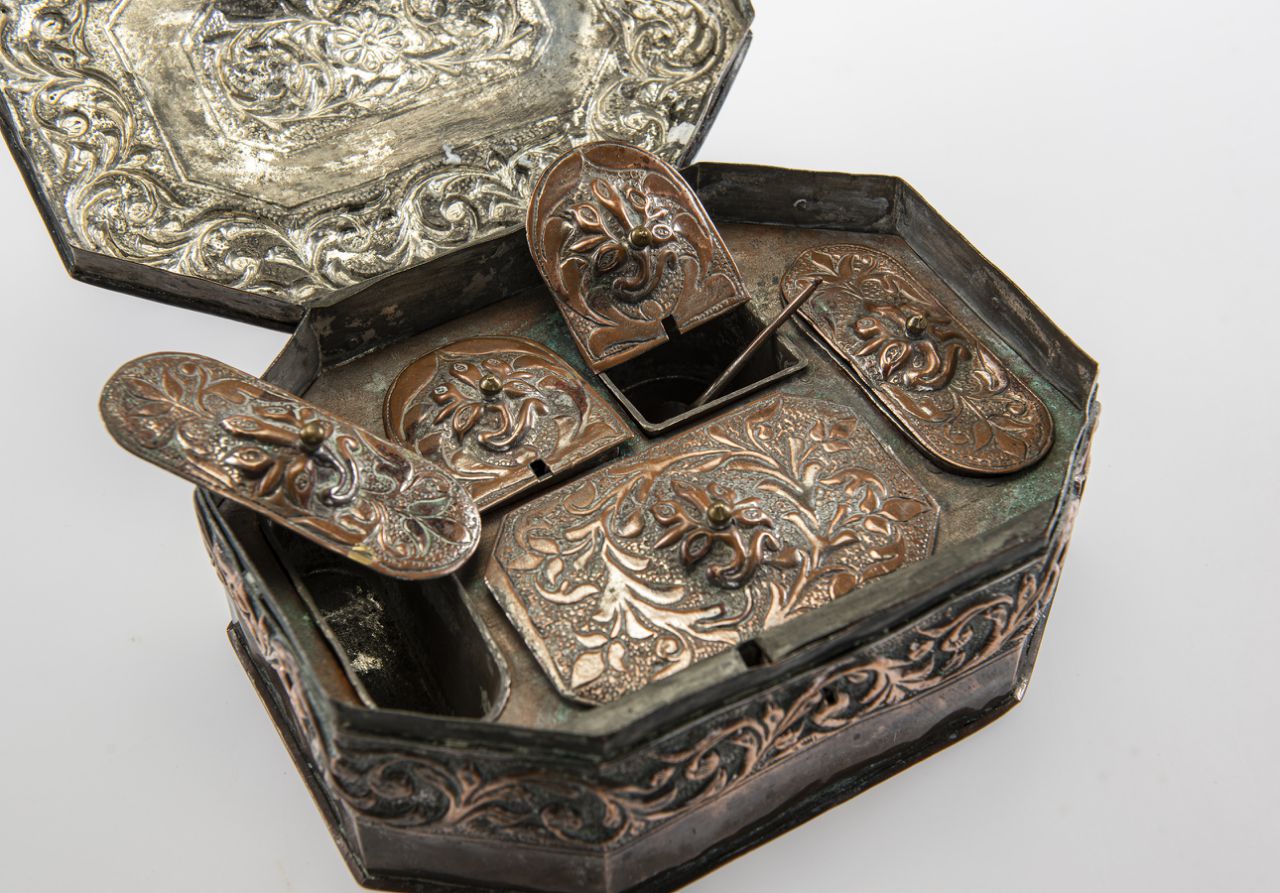 Arts & Culture (09/15/21) – BusinessWorld Online
Fundraising Virtual Auction Set
THE SANTUARIO of San Antonio Parish Francisfest will be holding SpectaculART 2: An Art, Jewelry and Homewares Auction from October 1-3. New and pre-loved pieces are up for grabs, with auction proceeds going to the parish's Social Services and Development Ministries and those of its sister parishes. Online viewing of auction items begins September 25 at www.spectaculartph.com. A preview of selected items also begins Sept. 25 at the San Antonio Parish Center (by appointment). SpectaculART 2 will feature fine jewelry, estate jewelry, handcrafted jewelry, and an assortment of diamonds, pearls, and colored stones. The homeware collection will include European, Asian and locally sourced pieces ranging from antique, vintage and contemporary furniture and home decor. This year, SpectaculART 2 will present a selection of artworks by: National Artist for Visual Arts Carlos "Botong" Francisco, Impy Pilapil, Romeo Tabuena, Anita Magsaysay-Ho, Gus Albor, Ramon Diaz, Jojo Guingona, Noli Principe Manalang, Isabel Campa, Ivy Lim and Marivic Rufino. Unique prints by Salvador Dali and John Lennon will also be on sale. SpectaculaART launched its first edition last year in response to the pandemic and the quarantine restrictions imposed on us. Online auctions run October 1-3 at www.spectaculartph.com. For more information, visit www.Instagram.com/SpectaculArt.ph, www.Facebook.com/SpectaculArt.ph or send an e-mail to [email protected]
Conference on dance during martial law
Multi-award-winning choreographer, director and mentor Denisa Reyes will reveal the artistic process behind her iconic 1985 work Te Deumthe social commentary that served as a prayer for Filipinos during the dark days of martial law, in the online talk show HistophTV. The episode, titled "Martial Law, Te Deum and Denisa Reyes", connects the role of dance to a historical event. It highlights the participation of creative thinkers in producing art criticism that engages the community in the political, economic and social landscapes of the Philippines. She will develop the performativity of cultural identity and the political interventions involved in her creative process. Premiered in Manila a year before the collapse of martial law, the play was named after the traditional Latin Christian hymn "Te Deum laudamuswhich means "We praise you, O God". Organized by the students of the Dance Program of De La Salle College in Saint Benilde, HistophTV was started by Benilde Dance President and Filipino Dance History Professor Nina Anonas. The discussion is free and open to the public. It will be posted on September 24, 5 p.m., on the official Facebook and YouTube channels of the Benilde Arts and Culture Cluster. Interested viewers can register at t.ly/Xgdy. For more information, visit https://www.facebook.com/benildearts.
CCP presents kundiman in an online music series
THE CULTURAL Center of the Philippines (CCP) Kung Hindi Man an online music series celebrates Filipinos kundiman September 25 at 6 p.m. Orange and Lemons soprano Lara Maigue, Gian Magdangal and Clem Castro will perform songs ranging from traditional kundiman to more contemporary interpretations of the genre. The online music series will be broadcast on the Facebook page of the CPC Chairman's office.
Visa and TP promote financial literacy with web series
DIGITAL payments company Visa and Tanghalang Pilipino (TP), the resident theater company of the Cultural Center of the Philippines (CCP), debut a new version of their play on the theme of financial literacy Lukot-lukot, Bilog-bilog. Turned into a web series in five episodes, Lukot-lukot, Bilog-bilog will be free to stream starting in September. Launched in 2017 as an interactive musical supported by the Bangko Sentral ng Pilipinas, Lukot-lukot, Bilog-bilog tells the story of teenage girl Gwyneth as she struggles to manage her finances and learns the value of good money management with the help of her family and friends and some Filipino heroes brought to life. Written by Eljay Castro Deldoc and directed by Avic Ilagan, the new Lukot-lukot, Bilog-bilog The stories feature five web episodes that focus on various financial topics such as the concept of promotional sales, the value of savings, credit basics, extra income, and scam awareness and prevention. Financial literacy experts Salve Duplito and Rose Fres Fausto are also featured in post-show interviews with Lolo Sally to enlighten the audience by providing financial education tips. The web series can be accessed through the social media sites of Tanghalang Pilipino (Facebook, YouTube) and its other nonprofit partner for children's education, Teach for the Philippines (facebook.com/teachforthephilippines). It will also be featured on Visa's Facebook channel.
Silverlens September Shows
The SILVERLENS shows for the month of September are "Collectors Plus", "Brighter Than Many Ever See" by Issay Rodriguez and "Domestic Abstractions" by Jill Paz, the latter of which is an introduction to the Online Viewing Room (OVR). These exhibitions will be accessible online and on site in the gallery space, until October 2 and September 25 for the OVR. This is the second edition of Collectors Plus, this time featuring contemporary Filipino art from the years 2005-2019. Organized by one of the first patrons of Southeast Asian art, the exhibition presents the first works of Vic Balanon, Yasmin Sison-Ching, Chati Coronel, Nona Garcia, Mit Jai Inn, Winner Jumalon, Yayoi Kusama, Pow Martinez, Maya Muñoz, Elaine Navas, Bernardo Pacquing, Norberto Roldan, Don Salubayba and Wire Tuazon. Alongside Collectors Plus, Silverlens will install its Art Basel OVR pieces. The gallery participates in the Basel exhibition of Art Basel with a solo stand by Pacita Abad, opening on September 21. Visit the gallery page website. Ms. Rodriguez's third solo exhibition, "Brighter Than Many Ever See", features various imprints of genetically modified ornamental plants, exhibited by the artist and her discoveries through research conducted by the Philippine Institute of Nuclear Research. By understanding the transformation of plants, the artist associates the process with the renewal of human memories and experiences as we co-exist with these life forms, especially in a time of global pandemic where we are forced to stay inside our respective dwellings and to confront our realizations on life and mortality. Jill Paz, a Filipino-Canadian artist, continues her ongoing investigation of how objects fall apart, their subsequent need for repair, and how these structures of preservation connect to values ​​of interconnectedness and interdependence in "Domestic Abstractions." , his first solo exhibition with Silverlens. The new body of work consists of 20 intimate scale panel paintings. Each painting has an intricately detailed surface, made by the digital optical tool of a laser machine, then overlaid with acrylic washes on a gesso ground.
Koryolab 2021 launches virtual residency program
Koryolab is the second level of the CCP (Cultural Center of the Philippines) Choreographer Series, a three-part platform to support the Filipino choreographer. It is a research laboratory and platform for the development of mid-career choreographers. The Koryolab 2021 virtual residency program hosted 10 artist-choreographers, namely Al Garcia (Taipei), Buboy Raquitico (NCR), Dingdong Selga (Eastern Visayas), Gerard Hechanova (Caraga), Gia Gequinto (NCR), Jared Luna ( NCR), Nicole Primero (Western Visayas), Niño Horario (Western Visayas), Sasa Cabalquinto (RCN) and Sherwin Santiago (CAR). The virtual residency will feature four episodes featuring prominent Filipino artists from various fields. Episode 1 airs September 16 (2:00 p.m.), with filmmaker Ed Cabagnot taking attendees on a brief tour of Filipino cinema, titled "Discovery: The Pinoy Experience in Cinema." Verne de la Peña gives an overview of soundscapes in Episode 2, titled "Sounding Time and Space: Jose Maceda et al," on September 16 (7 p.m.). In this episode, audiences get a glimpse of National Artist Jose Maceda's musical ingenuity. In Episode 3: "Dancing with the Alien: Bodies versus Machines," September 17 (2 p.m.), Tad Ermitaño explores the irreversible correlation between dance and technology, a phenomenon prevalent during the pandemic. Jay Cruz shares his process and ideologies as a choreographer in episode 4 on September 17 (7 p.m.). Entitled "The choreography as a critical practice". All episodes will be streamed on the CCP, CCP Choreographers Series and CCP Arts Education Facebook pages.
Virtual excursions with the Ayala Museum
WHILE the learning continues online, the Ayala Museum presents the educational program "Back to School: Virtual Field Trips" in October. It allows learners to travel around the world using Google Maps and learn about Filipino history and culture through artifacts from the Ayala Museum collection. The following virtual outings will take place: "Trade and Shopping" (Oct. 9) to appreciate everyday objects resulting from very old links with other countries; "A Visit to Old Manila" (October 16), Visit 19and Manila of the last century and discover what life was like in the city back then; and "The Road to Independence" (October 23), understand the importance of your rights as a Filipino and the importance of being an independent country. Time slots are 10 a.m. to 11:30 a.m. and 4 p.m. to 5 p.m. Tickets are priced at P1,950 (Season Pass for all three circuits); P750 (regular); and P600 (discounted for Ayala Museum members and ARC cardholders). For more information, visit Ayala Museum: back-to-school virtual school outings (google.com).