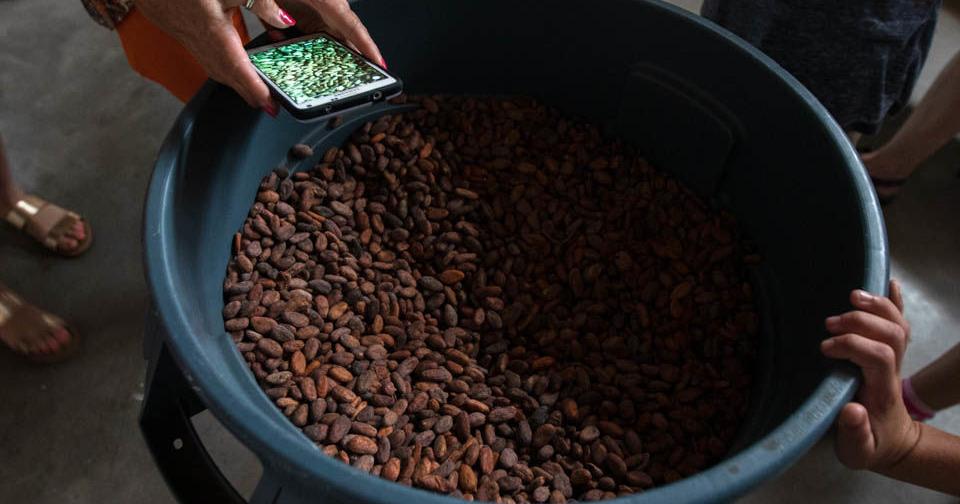 A tour of Athens' own Condor chocolate factory | Arts & Culture
"Do you have any Oompa Loompas?" Squealed a young voice from the crowd. "I'm an Oompa Loompa, you're looking at him!" the tour guide teased in response.
Brandon Lord, a full-time chocolate factory worker for Athens-based Condor Chocolates, took chocolate lovers of all ages to tour the Condor factory in Chase Street warehouses on Saturday morning.
During the tour, Lord walked through the step-by-step process of creating chocolate, from the cocoa pod in Ecuador to the chocolate bar wrapped in your output bin at Whole Foods.
Guests tasted samples of chocolate in several forms – 80% dark chocolate bars, coffee chocolate bars, hot chocolate drinks, and even half-processed liquefied chocolate – while experiencing the immense amount of thought and work that goes into every bite of the sweet treat.
Condor Chocolates sources their cocoa specifically from Ecuador and maintains close working relationships with each of the farms from which they source their chocolate. Lord said he went into every co-op and was in constant communication with some of the owners.
"As far as we can get our hands on it and understand the quality of the way they're being treated there, we've seen that it was very positive," Lord said.
Once the cocoa beans arrive in Athens, employees at the Condor factory sort, roast, winnow, crush, temper and individually shape the chocolate, turning it from a hard almond-like pod to a fully wrapped chocolate bar. .
"I pick all the cocoa beans we use," Lord said.
There are a handful of machines, each used at different stages of the chocolate making process. Many of them are prototypes of machines constantly refined by the chocolate makers themselves.
During the process, Condor tries to make sure that no part of the cocoa bean is wasted. After winnowing the seeds or removing the feathers from the shell, all shell casings are composted.
Lord gathered a handful of rubber scrapers after leading the wide-eyed group to another treatment room. He dipped the scrapers into what looked like a large metal mixing bowl of chocolate syrup and handed them to guests to taste. He was showing everyone the grinding process, in which the cocoa beans are ground into a paste commonly known as chocolate liquor.
"It's our 76%, I've been working on it for three weeks," Lord said as he handed out samples to the crowd. "It's finally being made, I've done about 130 kilos of it so far."
Condor Chocolates currently sells products in local boutiques and several Whole Foods grocery stores in the South East. They also sell cocoa nibs to local bakeries and breweries including Akademia Brewing Company and Terrapin Beer Company.
"It is absolutely breathtaking to see someone else using your product," Lord said. "It's really cool."
What many people may not know is that Condor chocolates are completely peanut free and they are looking to be dairy free in the near future. The factory is working on a way to recreate milk chocolate without milk.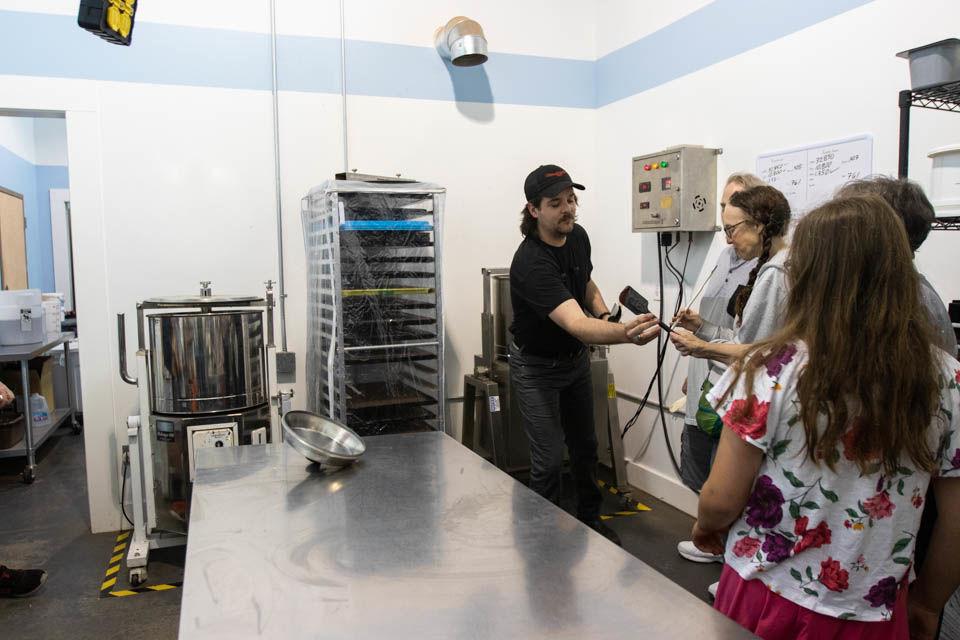 The Smith family enjoyed the visit and learned a lot about the chocolate making process. Ingrid Smith asked her grandmother, Linda Smith, if they could make chocolate together, so Linda Smith searched the web and found out about the factory tour.
"My favorite part was where he put his tray under the chocolate skewers and made the bar," Linda Smith said.
She and her stepdaughter, Betsy Smith, were impressed with Lord's involvement in tinkering with the big machines, as well as the size and volume of the process itself.
"I thought it was a very small Hoodink operation," said Betsy Smith. "It's huge. I mean, two tons of cocoa beans, twice a year?"
July 20 was Condor Chocolates' last factory tour – the company will be taking a break between tours and chocolate making for the Christmas season and will resume later in the fall.